Panoptic Vision is proud to provide independent, locally owned, highly skilled, good value optometry services to the Mid-North Coast.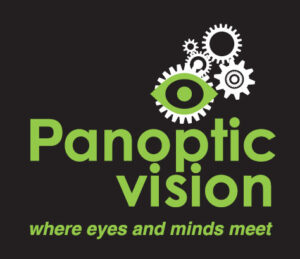 Panoptic means far reaching, without limits. Our commitment is to provide vision solutions beyond the ordinary. Our treatment model is not just to solve a vision problem but to go further – to enhance visual performance and/ or provide preventative options.
No vision system is the same. No vision need is the same. No patient expectation is the same. We provide customised vision solutions with the time to explain a potential range of options that lets our patients choose what will work best for them and their budget.
Our vision treatment options include ocular health management including referral to medical care as required, spectacles and vision therapy. We also offer full scope Behavioural Optometry.  Our  Vision Therapy programs assist children's vision development (turned/lazy eyes and/or vision processing for learning) and adults requiring visual neuro-rehabilitation (most commonly after stroke or after head injury).
All optometry appointments attract a Medicare rebate and we can process maximum rebates from all health funds for spectacles and contact lenses.
To make an appointment phone (02) 6584 8900.
STAFF:
Natasha Barnard-French: Behavioural Optometrist
After graduating from Optometry School, Natasha Barnard-French then completed a research masters in Neuroscience from UNSW in the area of vision development and learning difficulties in 1998, and received her ACBO fellowship in 2004. For 20 years, this extra training has been actively integrated in her work in specialised children's vision practices in Sydney, Perth and now the Mid-North Coast. Natasha regularly attends conferences to stay current with the latest research and best practice standards.
Julie Currie: Vision Therapist
Julie Currie has completed American OEP curriculum courses, is a fully qualified ACBO Vision Therapist and regularly joins Natasha at conferences. She has been working with Natasha for 6 years and shares her passion for improving children's vision and learning outcomes.
Kerri Moore: Qualified Optical Dispenser
Kerri moved to the Camden Haven in 1991 with her husband and 2 sons. She started working with Baker Payne Webb Optometrist at the Laurieton Branch in 1994 as a receptionist. Wanting to further her optical knowledge she completed the OTEN Optical Dispensing Course 3 years later. Since then she has been a familiar face tending to the visual needs of the local community.
Kerri prides herself in her dedication and commitment to serve the members of local region. She has been a valued member of the local community and has been involved in the Laurieton Sea Scouts, Camden Haven Eagles and the Camden Haven Community and Jazz Band.
MAKING APPOINTMENTS:
Phone (02) 6584 8900 to make an appointment.
Call today to discuss your healthcare needs: (02) 6584 8899.
OPENING HOURS:
Monday – Friday 8am – 5pm
Saturday 9am – 12noon (Medical Centre & Pharmacy only)