Conveniently located inside the front door of Lake Cathie Medical Centre, our pharmacists and friendly, qualified staff are here to help you and your family with all your medication needs. Our pharmacists will give you the best advice on your medicines and are happy to check your blood pressure, provide Influenza and Whooping Cough vaccinations and more. You can book here – https://www.lcpharmacy.com.au/services/vaccinations
If you are having trouble remembering to take your medicines, we can help with Medication Reminder services or Webster Packs. If you would like more information about how your medications work and how to take them, then we can help with a medication review. If you are confused about the names of your medications, we can provide you with a medication list. If you are too sick to come into store you can shop online at Lake Cathie Pharmacy.
We offer FREE local home delivery or Click and Collect to your car or in-store.
We sell gifts and cards and offer free gift wrapping. We have a great loyalty program!
We sell DB makeup and the girls are happy to help with colours.
Locals serving and supporting locals, we are always available for helpful advice.
CONTACT US: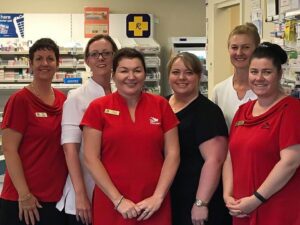 Your local chemist shop with affordable medicines and great pharmacy advice!
Open Monday – Friday 8am – 5:30pm and Saturday 9am – 12pm. Call us on (02) 6585 5085 or email us on info@lcpharmacy.com.au.
Our sister store is at 10 Jungarra Crescent Bonny Hills (near the Bonny Hills Medical Centre) and can be contacted on 5504 5959. This store offers Sleep Apnoea services, Sleep Studies and CPAP equipment, as well as all the great services we provide at Lake Cathie!
Call today to discuss your healthcare needs: (02) 6584 8899.
OPENING HOURS:
Monday – Friday 8am – 5:30pm
Saturday 9am – 12noon (Medical Centre and Pharmacy only)