Lake Cathie Medical Centre Pharmacy is a full service pharmacy.
The staff are knowledgeable, efficient and helpful. Simple advice and confidential counseling are free services provided by the pharmacy.
Webster packs and home delivery services are also available.
If you are confused about your medications, ask for a medications review by the Pharmacist.
With discounts and specials on many products, the pharmacy provides good value and excellent service to the community.
CONTACT US: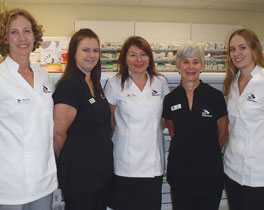 You may contact us by telephoning (02) 6585 5085, via email info@lcpharmacy.com.au or find us on Facebook.
Call today to discuss your healthcare needs: (02) 6584 8899.
OPENING HOURS:
Monday – Friday 8am – 5pm
Saturday 9am – 12noon (Medical Centre & Pharmacy only)